Alumni
---
Celebrating the Rugby Success of ISM Alumnus Ryan Santos '18
Ryan Santos '18, International School Manila (ISM) alumnus and Harvard graduate made waves in the world of rugby. He recently achieved a historic milestone as he became the first Harvard alumnus to join the USA National Rugby Sevens program and proudly represented Team USA in the tournaments in Toulouse, France, and London, England. Ryan's inclusion in the team holds significance as he is the first player born in the Philippines to achieve this remarkable feat. His journey from ISM to Harvard, and now representing Team USA showcases his exceptional talent, determination, and unwavering spirit.

Ryan was a mainstay of the ISM Bearcats Rugby program and competed as a three-season athlete in Interscholastic Association of Southeast Asia Schools (IASAS). His passion for the sport has propelled him onto the international stage, where he continues to excel and make his mark.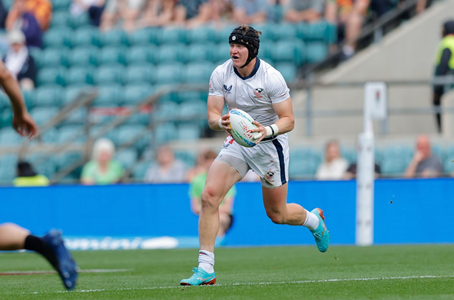 Reflecting on his experience in ISM, he shares, "I could not be more grateful for my time at ISM and the extraordinary opportunities the school has afforded me. Throughout my experience, I was truly fortunate to have mentors within the school's faculty who consistently encouraged me to dream big and excel across various domains."

In addition to his exceptional athletic record in ISM, he was also a dedicated student in the International Baccalaureate (IB) program in the school. "Whether in the classroom, or on the field, or within the wider community, I was consistently immersed in ISM's core values of integrity, service, and merit," Ryan shares. Balancing his academic pursuits with his rugby commitments was a challenging feat, but Ryan expresses ISM has prepared him tremendously for college and his future career. "The habits I cultivated while managing the demanding workload of the IB program and competing as a three-season athlete in IASAS proved invaluable as I successfully completed my senior thesis at Harvard while competing across the globe with the USA national rugby 7s team. I cannot express enough gratitude to the friends, teachers, coaches, and administrators at ISM for the profound impact they had on me," he adds.

We can't help but feel an overwhelming sense of pride in Ryan's extraordinary accomplishments. From representing ISM on the rugby field to making history as a member of the USA Men's National Rugby Sevens Team, Ryan has inspired us with his dedication and indomitable spirit. We are incredibly proud of you, Ryan! We are excited to witness your continued success as you inspire athletes around the globe. Read more about Ryan's story here.